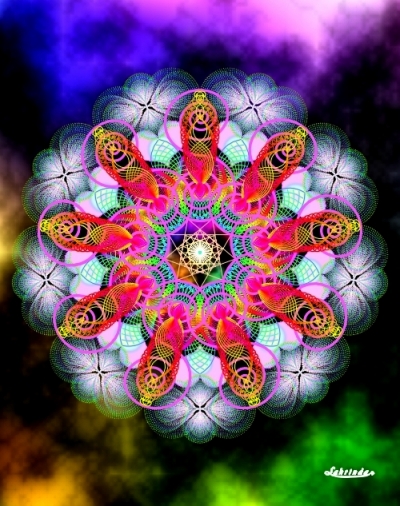 Today is the first day of 2018, a good time to take stock of the year's journey and put forth desires for expanding our evolutionary path.  A large factor in my artist's path has been to listen and trust the inner/cosmic guidance I receive as energy and nudges that I translate into the Symbala forms.  Sometimes these nudges are a wake-up call for me and not about the art.  Sometimes they are not at all subtle.
Here's a nudge I got right before the New Year and shows how some of us need firm guidance to pay attention and shift some stuckness!¬† I made a day trip to see friends for a holiday visit which included going out to lunch.¬† When we got back to the house, I was sauntering up the straight, flat walkway talking with one of the friends slightly behind me.¬† The next thing I knew, I was in a slow-motion movie starring me doing an inexplicable pratt-fall.¬† Arms flailing, gravity grabbed me and flung me off the walk and onto the grass, landing flat on my back with arms flung wide like a snow angel, without the snow!¬† I was stunned and flabbergasted and then, I started laughing – couldn't stop.¬† When they finally got me on my feet and into the house, I checked to be sure everything was where it was supposed to be and then we sat around talking.¬† They talked, I was thinking… what had I been talking about when this cosmic joke took place?¬† The friend had asked me how much my newest Symbala project would cost when it was finished, so he could buy it.¬† I hadn't given him a price because I didn't know what it would be yet.¬† I threw some cost figures at him and had just said before the fall, 'and tack on $5 for my efforts'!¬† Wham!!¬† I was sort of joking, but, once again my old pattern of not valuing myself and what I do was in there.¬† Wow!¬† I got the message (symbolically) loud and clear this time.¬† If you don't value yourself, you fall flat; thanks, my unseen friends.
So as you ponder your desires for the New Year, remembering to value yourself is top of the list or life won't sparkle like champagne, it will be flat like yesterday's soda.
For more inspiration here is a Symbala to contemplate what miracles we each are and some words of wisdom from Abraham.
'Ask, and it is given' means that whether you are a full blossoming genius human, or whether you are the one-celled amoeba in the ocean, or a cell in one of your bodies, when it is concluded that something else is preferred (no matter how developed the consciousness is) every time a preference is noted, Nonphysical Energy rushes forth to answer it. It is the promise of our evolving beingness.'Ä̬† ~ Abraham
With bright good wishes, Happy New Year!   Don't forget to visit my Zazzle Store where you will find Evolving Beingness gracing many products.
With Warm, Loving Resonance,  Lahrinda
For a larger image of this Symbala as the Featured Symbala for January:
Featured Symbala of the Month, January 2018.
See all past Symbalas of the Month:
Symbala of the Month Archive.